Lone Star Productions today announced that it has been contracted by the NFL Alumni Northern California Chapter to redevelop its website and social media presence. In combination with the participation of its community of former National Football League players, NFLANC relies on corporate and individual philanthropic donations to achieve its objectives, and the focus of this project is to expand the dissemination of news surrounding the organization, as well as lay a foundation of expanded opportunities for increasing donations - both monetary and other resources - to an organization that is so significant and important to the local and national community.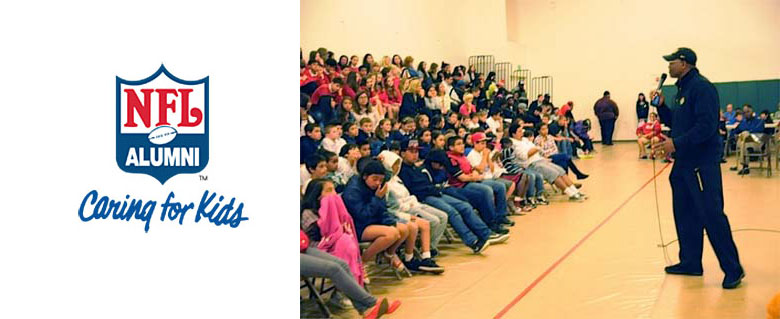 The National Football League Alumni, Inc. and its affiliate the Northern California Chapter, is a non-profit service organization of former professional football players who work voluntarily on behalf of youth and charity. It was formed as an outgrowth of philanthropic and civic-minded impulses of men who performed at the highest level of the nation's most popular spectator sport and used that experience as a springboard to success in later life. In their voluntary undertakings, members of the NFL Alumni are guided philosophically by the fundamental ideals expressed in their motto: "Caring for Kids."
Lone Star Productions is a full-service multimedia services agency that develops interactive marketing and design solutions for technology, financial services, food products, publishing, biotech, security, sports, and interactive entertainment industry sectors. LSP works both alone and in partnership with other leading interactive media firms to produce both front-end and back-end solutions for online properties shepherded by a wide range of clients. Its founder, Mark Johnson, has over three decades of product development, marketing, and design experience in the hi-tech industry. He has also been an award-winning producer in the entertainment software sector (including 7 Software Publishers Association awards, and 2 Macworld World Class Awards), and has brought more than 30 hardware and software products to market, from segments as diverse as video production hardware to notebook computers to interactive entertainment software. He has a Bachelor of Commerce degree from Rice University.
After searching the net for some simple Photoshop templates to assist when creating iPhone lock-screen wallpaper and not finding any, I decided to create some. Why would you need a template for lock-screen wallpaper? Well, prior to iOS 7, the lock screen image exhibits a layout that looks like those in the following images, depending on the model of iPhone:
What is probably apparent is that any attempt at a full-screen image resides partially underneath the information bar and clock/calendar display in the upper region, and the "slide to unlock" overlay in the bottom region. Now, with these images and other similar examples. the effect is actually positive, as the opaque image appearing from underneath is usually visually pleasing, as it is here. (Although you might be able to make the argument that the particular animation image above is slighted by being partially hidden under the clock/calendar overlay.) However, sometimes you may want an image component to display only in the non-opaque center region of a particular phone's display for clarity's sake. A good example of this is with company logos, or text-oriented images where you want maximum clarity for that image component. I ran into this issue when I was trying to create a simple wallpaper image for a barbecue catering client. They wanted the logo and tagline text to reside solely in the non-opaque center region so that all the image details were as clearly visible as possible, like the image below:
And rather than guess as to the non-opaque screen area, I created three different blank (transparent) Photoshop psd template files that have guides in the appropriate locations dependent on the iPhone model. Under iOS 6 and below, the 4, 4S, and 5 models display the information bar in the top 40 pixels of screen area, while the original iPhone and 3GS models use 20 pixels of vertical screen area for that upper region. Both the clock/calendar region and the "slide to unlock" region use 192 vertical pixels on the 4, 4S, and 5 models, and 96 vertical pixels on the original iPhone and 3GS models, respectively. That leaves an "unencumbered" central display region of 712, 536, and 268 pixels on the iPhone 5, 4/4S, and Original/3GS models, respectively. All of the psd files have guide lines displayed at each region boundary in order to facilitate being able to design your image optimally when you want to stay clear of the screen overlays. For my client image example, although we wanted the main logo and tag line to not overflow and be muted by the overlay regions, it actually turned out to be a visual advantage to have the opaque "slide-to-lock" region mute the image copyright info at the bottom and make it less visually obtrusive. (Click on the sample images below to see these guide markers more clearly. To download the particular psd file for your iPhone model, right-click (or control-click on the Mac) the appropriate link line, and save the psd file to your system.)
With the advent of iOS 7, the situation is a little less clear. If you look at the default lock-screen image below, although the text used to display the time, date and "slide to unlock" command are still present, there is no surrounding opaque overlay as existed in previous OS versions. Depending on the image you want to use, you may still want to avoid conflict with those ever-present lock-screen components, but now that the surrounding opaque overlays are gone, you may be able to encroach the text regions a little more than before. Once I've had a chance to put an iOS 7 phone through its paces, I'll update this article with a psd template appropriate to the new environment.
Google's new authorship initiative (links below) has the potential to be a real game-changer for organizations that focus on delivering news on the Internet, be it via blogs or traditional news sources. Here's how it works: In a clear attempt to establish Google+ as the post facto standard for social media identity (at least for authors), writers are being instructed to link their Google+ identities to the publications they write for. In turn, the articles on the respective publication site are linked back to the author's profile, either via a designated author page, or more directly from an article itself. So, you may start seeing more of those little Google+ icons popping up on articles across the web, similar in fashion to Facebook Like and other social media icons. This is intended to be a win-win situation for both Google and the authors - Google gets needed traction for their Google+ social media environment in the battle against Facebook, as they are clearly differentiating Google+ as a "more serious" reflection of an individual's total identity, in contrast to Facebook, which can easily denigrate to something resembling an immature collection of rants and raves over a period of time. The authors and their publications gain the potential for desired publicity and possibly an increase in pageviews for their respective articles (something that authors could readily use with the recent removal of the "search by author" capability within Google News). Only time will tell in determining if this initiative serves to increase pageviews as well as provide what the sputtering Google+ platform needs to both increase its growth as well as differentiate itself positively from the likes of Facebook.
Google's new guidelines on authorship:
http://support.google.com/webmasters/bin/answer.py?hl=en&answer=1408986
Recent details on improvements to the Google authorship process:
http://support.google.com/webmasters/bin/answer.py?hl=en&answer=1229920